Derrick Campbell, Boston Guitar Teacher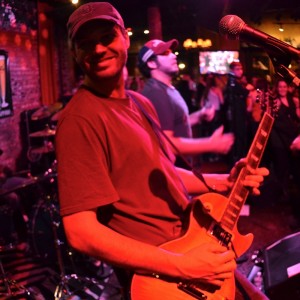 I've been playing the guitar for twenty-eight years now, and studied with a variety of teachers including Bob Ferguson and Michael Harris.   I began teaching guitar lessons when I was a sophomore at Wright State University in Dayton, Ohio.   I graduated with a B.A. in Communications and then moved to the Boston area in 1997 and began working full time as a guitar teacher within a few months.  Since then, I've also played in a variety of original and cover bands, and written a number of songs of my own. I'm working on recording these as instrumentals with my home studio.
I also play in a cover band called Element 78. We play out every weekend, and have played at places like the Hard Rock Cafe at Foxwoods Casino, and the Boston Harborfest Concert at City Hall Plaza. You can check us out at www.element78band.com, or find us on Facebook under "Element 78 Boston." The singer and I have also started doing some acoustic shows on Sundays and  Thursdays at Waxy O'Connors in Foxboro and the British Beer Company in Bristol, Rhode Island.  I'm also fortunate enough to be playing in a band with other music instructors.  The drummer John Kerr, teaches private drum lessons and also does drum clinics, and has published a couple of books for beginning drummers that you can purchase on his website, jkdrumsolutions.com.   Further proof of his abilities as a drum teacher can be found in the multiple transcriptions that he has done and had published in national magazines including "Modern Drummer" and "Drumhead".  The bassist, Greg Reinauer, teaches at Noble and Greenough, which is one of the schools I teach at.  True story – he joined the band, and then two weeks later I found out he was one of the faculty!
Why take lessons from me?
Good question, especially considering there are literally hundreds of guitar teachers out there willing to do it for less money.  The truth is, I may not be the right teacher for you, but you won't know until you come in for a free 30 minute lesson.  Most likely though, I am the right teacher for you if you're willing to practice at least 30 minutes a day, and are open to constructive criticism about your technique.  Most of the value of private lessons comes from the student playing in front of the teacher, and then the teacher telling the student what he or she is doing right or wrong in terms of efficiency of motion.  The reason why virtuoso players make it look effortless, is because there is little to no wasted movement as they move their fingers across the fretboard.  Excess movement slows you down, and having an experienced judge to evaluate and monitor what you're doing  is the quickest way to eliminate that problem.
That being said, you will probably also want to strike a balance between working towards perfect technique and enjoying the instrument.  Many of the classic rock legends like Jimmy Page, Joe Walsh, Eric Clapton, etc. had good technique, but not necessarily robotically flawless technique.  That is the template I have in mind for my students, and if that is what you have in mind for yourself, then you'll probably enjoy taking lessons from me.
Private guitar lessons and group guitar classes
Music Maker Studios in Brighton, MA This is where I teach most of my private guitar lessons, and I teach adults and kids. If you take lessons from me, this is where you'll go.  Music Maker Studios is located at 185 Corey Road, Brighton, MA, 02135. It's close to the Green Line B and C trains, and there's also plenty of free parking available.
Boston Center For Adult Education at 122 Arlington Street in Boston.  I do group classes here on Wednesdays at 6pm, and also do a ukulele class at 7:30.  Check out their website for current info and to sign up for classes.
Noble and Greenough School in Dedham, MA During the school year, I teach private guitar lessons to the middle and high school students during the day.  I've been employed as a guitar instructor here since 2003.
I also teach in private lessons in Dedham (not at Nobles) Thursday through Sundays.  Contact me for more information about rates and availability.