Derrick Campbell, Guitar Teacher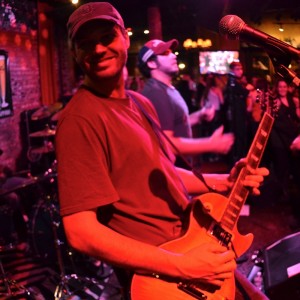 I've been playing the guitar for twenty-eight years now, and studied with a variety of teachers including Bob Ferguson and Michael Harris.   I began teaching guitar lessons when I was a sophomore at Wright State University in Dayton, Ohio.   I graduated with a B.A. in Communications and then moved to the Boston area in 1997 and began working full time as a guitar teacher within a few months.  Since then, I've also played in a variety of original and cover bands, and written a number of songs of my own. I'm working on recording these as instrumentals with my home studio.
Prior to the pandemic, I played in a cover band called Element 78. We played out every weekend, and have played at places like the Hard Rock Cafe at Foxwoods Casino, and the Boston Harborfest Concert at City Hall Plaza. The singer and I did acoustic shows as well, which were a lot of fun.
Last year, I contacted Ted Norris, the singer in an original band I was in some years back, and we started collaborating on recording the songs we did back then and started working on some new songs.  He's in Virginia, so we've been doing collaborating with online recording and using session drummers from Airgigs.com.  Below is the completed album we've finished if you'd like to take a listen . . .
Why take lessons from me?
Good question, especially considering there are literally hundreds of guitar teachers out there willing to do it for less money.  The truth is, I may not be the right teacher for you, but you won't know until you come in for a free 30 minute lesson.  Most likely though, I am the right teacher for you if you're willing to practice at least 30 minutes a day.  Most of the value of private lessons comes from the student playing in front of the teacher, and then the teacher telling the student what he or she is doing right or wrong in terms of efficiency of motion.  The reason why virtuoso players make it look effortless, is because there is little to no wasted movement as they move their fingers across the fretboard.  Excess movement slows you down, and having an experienced judge to evaluate and monitor what you're doing  is the quickest way to eliminate that problem.
That being said, you will probably also want to strike a balance between working towards perfect technique and enjoying the instrument.  Many of the classic rock legends like Jimmy Page, Joe Walsh, Eric Clapton, etc. had good technique, but not necessarily robotically flawless technique.  That is the template I have in mind for my students, and if that is what you have in mind for yourself, then you'll probably enjoy taking lessons from me.
Private guitar lessons
I currently teach in Springfield, PA.  As of January, 2022, I have stopped doing in-person lessons and am only offering lessons through Zoom, Facetime, or other video conferencing tools.  I am available for online lessons for anyone who is interested – contact me for rates and availability.  I do plan to resume in-person lessons in the future.
Places I taught in the past
Music Maker Studios in Brighton, MA This is where I taught most of my private guitar lessons, teaching adults and kids.  We did a recital once a year in the summer, and I had a lot of students participate.  I started teaching there in !997 and stayed on through 2021.
Boston Center For Adult Education at 122 Arlington Street in Boston.  I did group classes here on Wednesdays for beginners from 2006 to 2020.  I offered a beginner class and three different level two classes.
Noble and Greenough School in Dedham, MA.  I taught private guitar lessons to the middle and high school students during the day.  I worked here from 2003 to 2020.